Welcome to this week's Super Stalker Sunday hop!
What is Super Stalker Sunday?
Glad you asked! Super Stalker Sunday is a weekly blog hop hosted by
As you know, blogs hops are a great way to meet other bloggers, socialize and gain more followers. We created this hop as away for you to connect with other bloggers via RSS Feed, Google Friend Connect, Email Subscribers, Facebook Fans, Twitter Followers, and Google+!
How to Super Stalk

Follow each host at least one way. Remember to leave a comment, as hostesses we're committed to returning the follows. But please be patient as we are busy mamas and it may take us a few days to return the visit and follow. You will only have to link up on one of the host sites and your link will appear on all as we use the same linky. After you follow the hosts and the featured blogger, follow at least the four blogs listed above you on the linky. If your time permits, follow as many other blogs are you are willing!
Keep in mind that many bloggers have phased out GFC in recent weeks, so be sure you're following everyone another way as well!
Remember: You will only get as much as you give. The more blogs you can visit, the more visits you will gain in return. We are all here to socialize and greet, not visit only your blog.
While we encourage sharing our button and hop with as many as possible, it is not required. The more you spread the word though, the more we socialize and all gain followers!

This week's featured blogger is: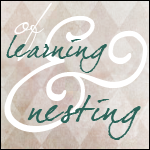 Rachel's favorite way to stalk a blog was GFC, because it was so easy to log into blogger and see what has been posted by everyone. However, I've heard that's getting phased out (if it's true, I will be so sad), so I've taken to following on Facebook. It's easy, and convenient, and I check it a lot.
If you would like to be a featured blogger, being shared with more than 32,000 combined followers between the hosts of this hop, please link up your blog's home page! At the end of each week we will select a blog via Random.Org to be the featured blog for the following week. The featured blogger will be emailed by Wednesday morning. Please be sure to check your spam folders! This week, the linky will remain open until 12:00PM EST on Tuesday! Go ahead, stalk up a storm!